These are fashion face covers, NOT medical grade masks.  They are 100% polyester, washable with non-chlorine bleach and dryer safe.  The designs will not chip or peel off.    This design will sure put a smile on somebody else's face…and yet super soft to wear. Given the nature of this product, ALL SALES ARE FINAL, no refunds or exchanges.
One size fits most.  (this means that some faces are different sizes, and we can't change that-sorry it has to be said, however if yours doesn't fit upon arrival, you can try to wash/dry it, or tie a ribbon around the ear straps and tie to the back of your head which will by-pass the ears totally)
We now have youth size and adult size one size fits most, we show both so you can select properly, as ALL SALES ARE FINAL, no refunds or exchanges.  Please note that the youth sizes are 2-ply, while the adult is a single-ply.  Still no elastic, just stretch cotton for the ear pieces.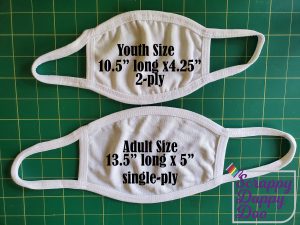 They are designed to remind you not to touch your mouth or nose.