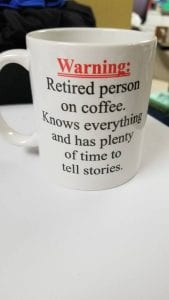 Retirement Mug for the retiring person in your life.
Warning: Retired person on coffee.  Knows everything and has plenty of time to tell stories.
A perfect saying for that person that is retiring.  They will use the mug and always remember their co-workers, friends or family member that thought of them when they retired.
Purchase a retirement mug for that person that is retiring.  A white ceramic mug that is 11 oz in capacity.  Dimensions of this mug is 3.75″ tall by 3″ diameter.  White inside.  Easy grip handle.  Microwave and top shelf dishwasher safe.
To make the retirement mug even more special personalize the other side of the mug with their name or a nickname that the person goes by.