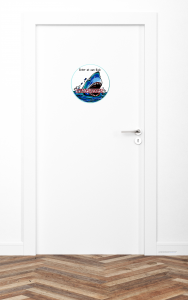 How cute would this look on your child's door to their room.  Door hanger is perfect for any time of the year and anybody's room! Made from sublimated hardboard so will not chip or peel off for a crisp, clean look.
Each one measures approximately 10″ in diameter and are approximately 1/4″ thick. The hanger has a hole at the top, so you can easily hang it on a door.
This door hanger is handcrafted causing slight variations in letter placement and markings. Each piece has it's own character and individuality that I do not try to hide.